Wait just a minute!
Before you send that email or pick up the phone– if you're looking for ticket prices click HERE or hours of operation, you can find them HERE. Other questions? Checkout the FAQ page! There's a lot of useful information there!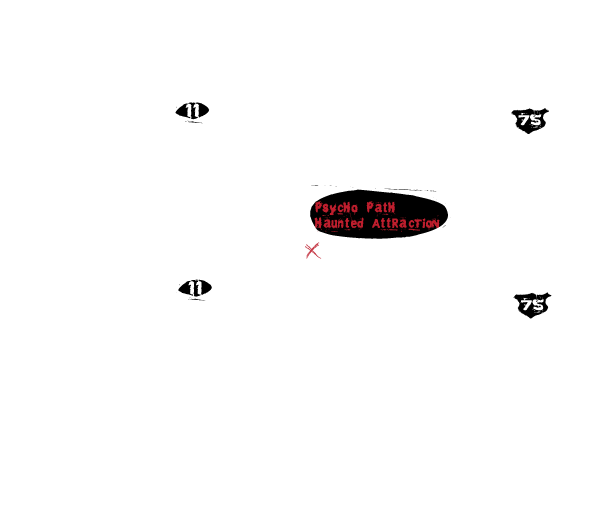 Phone: 918.288.7685
Email: info@psychopathhaunt.com
Address: 1517 E. 106th Street North, Sperry, Oklahoma 74073
From Highway 75 North take 106th Street West.
View Larger Map & Get Directions

Warning and Disclaimers
At Psycho Path Haunted Attraction you will experience the following: fog, strobe effects, intense audio and visual, extreme low visibility, and damp or wet conditions. You should not participate if you are asthmatic, pregnant, claustrophobic, prone to seizures, or have heart or respiratory problems. Those afraid of total darkness are advised to remain safely outside.
WE ARE NOT RESPONSIBLE FOR LOST OR STOLEN ITEMS.
All Ticket Sales are Final! There are NO REFUNDS or RETURNS! Enter at your own risk!
No alcohol permitted on the property. Psycho Path Haunted Attraction reserves the right to refuse admission to anyone.
** We have sheriffs on duty at all times during the Haunted Attraction.
Proper shoes are necessary, no flip flops, sandals, or high heels.
No Video or Flash Photography! Do Not Touch Actors! No Running! No Chewing Gum or Candy while you are on the Dark Ride or in the Shadow Box! Please turn off all cell phones while on the Dark Ride or in the Shadow Box!
This is an outdoor event and both attractions are dependent on the weather. In the event of inclement weather, please call 918-288-7685 to check for closures.
Privacy/Security policy: Psycho Path Haunted Attraction DOES NOT sell or distribute the data we collect during the ticket purchase. We use your data to facilitate the purchase of your tickets, and to contact you regarding special promotions related to Psycho Path Haunted Attraction.
When you place an order for tickets on line, you will be transferred to a secure website. All personal information, including credit card information, is communicated to us using encryption technology that prevents a third party from gaining access to this information.
Shipping Method: All tickets purchased on-line are printed. You must have a printer to redeem your tickets.